Being in a small prairie town in central Kansas, on a quiet residential street, a concrete Adam and Eve greet you; Eve offers an Apple of Friendship. Above them, on tall concrete pillars, are the Devil, frolicking concrete children, and two love storks. To the left, high in the air, an all-seeing concrete eye of God watches over the Garden of Eden.
Biblical scenes mingle with political messages. In the back yard, Labor is crucified while a banker, lawyer, preacher and doctor nod approvingly. On one pillar, an octopus representing monopoles and trusts grabs at the world. A soldier and a child are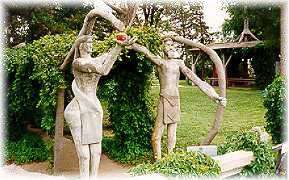 trapped in two of its tentacles. Fear not. On the rn"Goddess of Liberty" tree, Ms. Liberty drives a spear through the head of another trust octopus, as free citizens cut off the limb that it rests upon.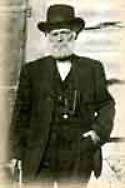 The creator of this ivy-covered concrete and limestone utopia was pioneer showman Samuel Dinsmoor. Dinsmoor was a retired Civil War Veteran, patriotic American, lover of freedom, and hater of the conspiratorial trusts. At age of 64, he started building the Garden of Eden as a tourist attraction in 1907. His house is made of limestone cut to look like logs; his sculpture garden surrounds it. Having a knack for popular eccentricity (he married his first wife on horseback decades before such stunts became popular), he opened his home as a tourist attraction in 1908, even as his vision of biblical and modern man was being molded out of 113 tons of concrete.
He continued building and displaying up until his death in 1932, taking time out to marry his 20-year-old housekeeper in 1924. This relationship bore 2 children. Both are still alive. The son John is the youngest living child of a Civil War Veteran. John was born when Mr. Dinsmoor was 85.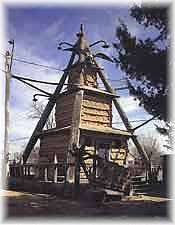 Dinsmoor built this 40-foot tall limestone log mausoleum for himself and his first wife. He is laid to rest in his handmade glass-topped concrete coffin for generations of public viewing.
*National Register of Historic Places