During the twentieth century Lucas, a unique, rural town in north central Kansas, has been a Mecca for Grassroots artists. Grassroots Art is described as individualistic self-taught, often eccentric senior citizens, who have a rnpersonal vision to create and decorate their environments. Often it is their house or yard. Unusual constructions and building materials characterize grassroots environments. Grassroots(naive, visionary) artists have a basic need to create and have no desire to sell their work.
The center's purpose is to preserve and display various grassroots art as part of the cultural history of the Midwest. Kansas ranks third among the States in the number of sites, after Wisconsin and California. The Kansas Grassroots Art Association (KGAA) was organized more than thirty years ago to document and to preserve grassroots art sites as well as to encourage appreciation of such work. This organization served as a mentor to the Grassroots Art Center in developing its mission, facilities and exhibits. In 1999 KGAA was awarded the Governor?s Arts Advocate Award in recognition of its long-time role in preserving and promoting an appreciation of the work of self-taught artists.
Lucas, Kansas claims four grassroots art environments: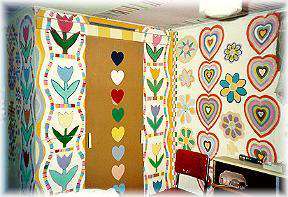 Two sites, S.P. Dinsmoor's Garden of Eden and Florence Deeble?s Rock Garden still survive in the town.
The concrete and stone sculptures of Miller?s Park on the west edge of Lucas were sold and removed from the site.
The Grassroots Art Center exhibits an extensive collection of work by Ed Root which has been preserved from the original environment south of Lucas.
Currently the Center has a permanent limestone sculpture collection of 95 pieces of the late Inez Marshall. She lived in Portis, KS. Miss Marshall carved Osborne and Jewell County post rock limestone for over fifty years. Although handicapped she manipulated 400 pound limestone rocks into intricate tabloids. "Sunshine Hospital" depicts operating room, nursery, and cafeteria. Her 1914 Model T has an engine, trunk and headlights that shine. Additional exhibits rotate of other regional grassroots artists.
The Grassroots Art Center's three galleries display work by Portis stone carver Inez Marshall, a variety of wood carvings by Glenn Stark, Warren Lingg and Lawrence Reynolds, glass-studded concrete sculptures by Ed Root, metal totems by Mullinville's M. T. Liggett, a painted environment by Leroy Wilson, aluminum pull-tab sculptures of Herman Divers, and the imaginative machines of Earl Slagle.
The Art Center offers guided tours as well as outreach classes, concerts, lectures and traveling exhibits. These programs are presented in part by the Kansas Arts Commission, a state agency and the National Endowment for the Arts, a federal agency.
Tours can include a hands-on "trash art" activity for children, a guided walk through the Deeble rock garden and grassroots art mural, and even a special "Grassroots Art Lunch" which lets visitors try a bite of Ed Root-inspired mosaic salad and an Inez Marshall bier "rock"!