"Precision Valley Golf Center where the golf season never ends."
The facility offers golfers a much needed place to practice and work on their game. It is currently the most technologically advanced golf club fitting center between Kansas City and Denver. rnThe 6000 sq. ft building is fully equipped with four state of the art indoor golf simulators that feature 33 of some of the world's most famous golf courses. You can chip, putt, and hit your own golf balls with your own clubs all without dealing with the elements of Mother Nature. There are two pool tables and one of the largest pro shops in western Kansas with all the leading brands in stock including – Titleist, Callaway, Taylor Mae, Mizuno, Ping, Cleveland, Cobra and Nike. The snack bar features appetizers such as pizza, chips, sandwiches, popcorn and much more, as well as offering a full bar. The inside of the building and all of its amenities are also available for private parties. (Call for details.) The outside of the facility is equipped with the only lighted driving range in the area as well as an 18 hole mini golf course that features a 10 foot tall water fall, two fountains, two ponds, as well as water hazards and many other obstacles.
DEAD SOLID® GOLF SIMULATORS –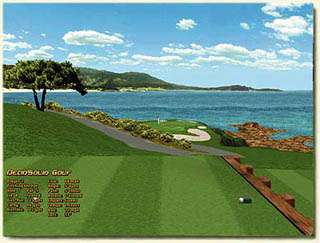 Don't have 5 hours to spend out on the golf course, come to Precision Valley Golf Center where you can play 18 holes by yourself in 30-45 minutes.
Helping someone learn the game of golf? Bring them to Precision Valley Golf Center to help them learn and enjoy the game. Eliminate chasing balls all over the golf course, or having unpleasant people waiting angrily behind you. Keep it fun, and do it in a controlled environment.
Work keeping you from getting enough rounds in? Come play golf after work in the dark of the night and keep your game tuned up.
Got a big tournament coming up and don't feel prepared? Play nightly preceding that tournament and have that swing grooved in.
Swinging the golf club really well? Come in to Precision Valley and have it filmed on our simulator. We will then keep the good golf swing on file and when times get rough, come back and we'll compare the two to figure out what has changed.
If you have a Corporate Party that needs some life, or a young golfers' birthday party, our simulators can help fulfill that request as well.
Can't decide between one driver and the next, go hit it in the simulator and find out exactly which club you should hit. How far they each go, and which club creates the optimum launch angle for your ball flight.