Two of the most popular attractions in Gage Park are the 1908 restored Carousel and the Mini-Train that circles the park.
Built in 1908 by the Herschell-Spillman company of New York, Topeka's carousel offers timeless entertainment housing a 1909 Wurlitzer band organ. Purchased by the city in 1986, community volunteers have donated money and time to ensure the success of this quaint Victorian attraction. Admission is 75 cents.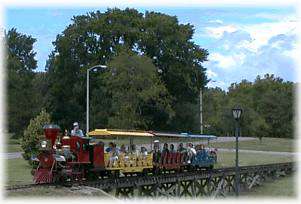 Take the mile-long mini-train ride for a splendid view of the park complex.
rn