Wellington's Chisholm Trail Museum contains over 40 rooms filled with over 20,000 artifacts and pictures, most collected locally, some dating back to the Civil War and the early days cattle trail that passed west of Wellington.
The building itself is a reinforced concrete structure built in 1916 as the Hatcher Hospital. Originally a two story structure with rnbasement, a third story and electric elevator were added in 1920. The nearly 80 year-old elevator is one of the oldest functioning elevators in Kansas. Many older people still living in the Wellington area either worked at or were treated by doctors in this building. In fact, many Wellington residents were born here between 1916 and 1961. The original second floor nursery is preserved as part of the museum that many return to see.
The hospital closed in 1961 and became the Chisholm Trail Museum in 1965. Staffed and operated by community volunteers and supported by donations from visitors and local patrons, the non-profit educational organization is free to the public.
The First Floor of the Museum contains 12 rooms and the Corridor Displays. A red 1904 Pope Hartford automobile, owned by a local Wellington doctor greets visitors as they enter the museum.
Library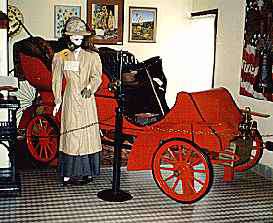 Music Room
Children's Doll Room
Military Rooms
Sound Room Early Radios & TV
Railroad Room
Automobile Room
Doctor's Office
Pioneer Room
Chisholm Trail Room
Gift shop
The Second Floor contains rn15 Rooms and the Corridor Displays.
Kitchen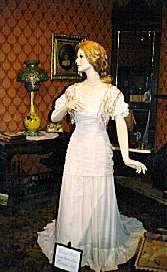 Laundry Room
Dining Room
Parlor
Womens Hat Room
Bedroom
Handmade Walnut Furniture
Shoe Closet
China & Glass Room
Sitting Room
General Store
Beauty Parlor
Hatcher Nursery
Elks Room
Tool Room
Sports Room
The Third Floor contains Thirteen Rooms with exhibits ranging from the marionette puppet show housed in the old Hatcher Hospital dumb waiter to a barbershop scene containing a child's chair as well as the conventional adult chair.rn
Business Machine Room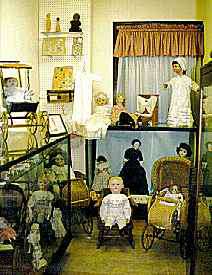 Barber Shop
Weaving Room
Dentist's Office
Mayors' Room
Raymond Frye Collection
Sewing Room
rnSchool Room
Santa Claus Room
Photography Room
Grandmother's Room
Child's Room
Bones Display Archeology
The Archives are in the basement and are open to the public only by appointment, usually on Tuesdays.
rn