Stark is the youngest town in Neosho County. It was started in 1885 with only a schoolhouse on the corner, and under the name of Grant Center to afford a market place and trading point for that community. It derived its original name from its nearness to the center of Grant township, however, the first postmaster, Frank Leighton, when submitting the name to Washington found there was another Grant Center and suggested the name be changed to Stark in honor of his birthplace, Stark county, Illinois. In 1887, the Kansas City Branch of the M.K.& T. Railroad formed at branch at Stark and the city was platted in 1888.
The Friends Church at Stark can date its first activities back before there was a Stark. Mary Vestal, of Maine, began preaching to the Quakers who lived in the community at the 49 school house two and a half miles southeast of Stark in 1883. Other lad ministers followed, Rachael Woodard, Amy Fulgen, Mrs. Stubbs, noted for the powerful effect of her songs, and Susie Berry. Meetings were held in the homes until the church was organized and in the fall of 1888, Joseph Henley Bundy, his three sons and a daughter announced the gift of three lots in Stark for a "Quaker Meeting House," the deed being dated, July 26, 1889. The building was dedicated June 15, 1890. The first pastor was Lindley A Wells who possessed a remarkably strong voice. Many times persons two miles away reported hearing him singing "Jesus Saves."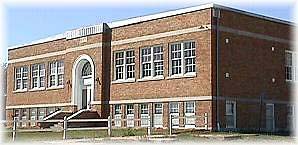 The Grant Township High School was built in 1929 replacing the Grant Center school building it occupied that was built in 1897. This nicely maintained school building is no longer a school, but is used for school reunions. Each year on Memorial Day weekend, all classes come home and have a great time reconnecting. The gatherings are always on Friday and Saturday with the Alumni Banquet Saturday evening in the High School gym. Throughout the year the Grant Community Club has an active membership and holds monthly meeting/suppers and other activities besides helping to keep the building in good condition. The local 4-H club holds their meeting in the school building in a room they renovated.
The alumni have been responsible for 98% of the marvelous renovation of the old building, inside and out. For the 2000 reunion "the volunteers finished the last classroom upstairs in the main building. We also painted the entire upstairs concrete flooring which includes the bathrooms."
– Selected pages from History of Neosho County by W. W. Graves
---