The old Rapp schoolhouse is one of the few, if not the only, one-room, eight-grade schoolhouses in Kansas that still has its original desk and textbooks. Because of its uniqueness, its location near the Santa Fe Trail, and the special place it has in the hearts of its neighbors and former students, it has been listed as a Kansas State Historic site and placed on the National Register of Historic Places.
The historic school building is used as an educational site where urban and suburban elementary classes can come to spend a day, where families can hold reunions, and where visitors can go beyond the nostalgia of the period of 1929 to 1959 to experience the contributions made by one-room schools in our rural communities and to our society as a whole.
The Rapp settlement was once a thriving community along the Missouri Pacific Railroad track. It was located 1/4 mile east and 1/4 mile south from the present Rapp School building. Only a few houses remain where once lumberyard, general store, cattle pens, trainstations, and other businesses and houses stood. The brick schoolhouse and playground adjoins Rapp Cemetery, where many early family names may be found.
The first school building at the site was a one-story wooden building, finished in 1871. Fifty seven years later in 1929, the present building was built. It is an excellent example of the "modern" rural one-room school built in the early 1900s. Its building is unique not only because of its straight and true brick exterior, but also because it has a full basement with windows, electricity pre-dating Rural Electrification, and a pump and sink. The basement served as a place for school activities in the winter months, and a large coal burning furnace was also located there to use fuel that was mined in the eastern part of the township. Water was provided for the pupils and teacher through an inside pump from a cistern located outside at the southeast corner of the building. The basement concrete floor and foundation are still in excellent condition with no cracks of shifting. Its two-story bell tower is firm, as well and the bell rings crystal clear.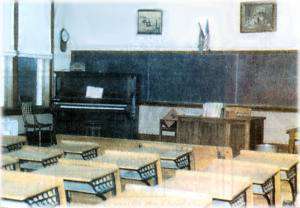 Because Rapp School is completely intact as it was in the 1930s, students and teachers can come and spend a day in the one-room school just as it was operated at that time. Period curriculum materials, including standardized achievement tests, can be used in lessons taught. Black boards are located around the room where students can display their practice drills. The recitation benches where each grade would come forward to sit before the teacher's desk to demonstrate completion of assignments and receive past work returned by the teacher can still be utilized. Political changes over time can be studied by viewing pull-down maps from the 1930s and 40s.
If you wish to visit the Rapp School, schedule an event there or arrange to have an elementary class spend a morning there please contact the Rapp School Preservation Association.
rn