One of the largest Cavalry engagements of the entire Civil War, and the only one fought on Kansas soil, the Battle of Mine Creek occurred on Oct. 25, 1864, when 2,500 Union horsemen defeated 6,500 Confederate soldiers, killing or capturing over 1,000 of them. Mine Creek was the last important Civil War battle in the West, and served to represent the impending doom of the Confederacy.
Of the original 900 acres of Mine Creek Battlefield land, 280 acres is owned and protected by the state of Kansas. To date, the Mine Creek Battlefield Foundation has acquired an additional 210 acres and is currently negotiating with five Linn County landowners for the purchase of tracts totaling 264 acres. The foundation's goal is to protect from development as much of the remaining 400-plus acres of land as possible.
An interpretive marker has been placed on the battlefield grounds recalling the events as they took place in the battle.
A Union Victory in the Battle with Many Names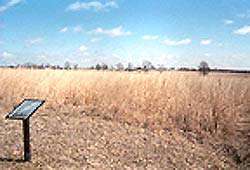 a.k.a. Battle of the Osage | Battle of the Marais des Cygnes | Battle of Little Osage
The Battle of Mine Creek was fought on Oct. 25, 1864, between the rear guard of the Confederate Army, led by Gen. Sterling Price, and an advance of about 3,000 Union horsemen, commanded by Gen. Alfred Pleasonton. Price's division of nearly 7,000 soldiers formed a defensive line more than a half-mile long, defending the wagon train as it tried to cross the creek. Although they outnumbered their Union foes by more than 2 to 1, the Confederate line was pierced by the force of the Union charge and then buckeled. Chaos ensued as the fleeing Confederates tried to cross the high-banked creek.
Maj. Gen. John Marmaduke, second in command in Price's army, was captured along with Brig. Gen. "Tige" Cabell, a well-known, hard-nosed Arkansan. Some Confederates wore articles of Union clothing and were killed trying to surrender or perhaps after being captured. Union troops had been under orders while fighting Missouri guerillas to kill the enemy when found in Union garb. Other Kansas troopers were said to show "no quarter" after seeing local farms burned and farmers killed in Price's wake. When the dust settled, the Union Cavalry had killed or captured nearly 1,000 Confederate soldiers and commandeered all of their artillery.
Price's wagon train was virtually destroyed during the Confederate disaster at Mine Creek and he was forced to send Brig. Gen. Joseph Shelby's division back to save his routed brigades. The wagon train was further decimated during the accelerated retreat, forcing Price to abandon plans to move south and wage an attack on Fort Scott. After a short respite, Union forces attacked Price again at Newtonia, Mo., but were held off one more time by Shelby's division. In the final analysis, Mine Creek proved to be the last major Civil War battle in the west.