Schedule
9:00 A.M. – Arrive in Marquette for restrooms and coffee time.
Hot coffee and rolls at the Cafe – Tuesday thru Saturday, OR

Baked items and craft items at the Cookies, Etc. Shop – Hours vary
9:45 A.M. – Tour the Marquette Historical Complex consisting of the Railroad Depot/Museum, the Range School Museum, and the Marquette (City ) Museum at 206 N. Washington. Contact 785-546-2292 for appointment.
10:45 A.M. – Venture through the Kansas Motorcycle Museum that exhibits motorcycles and motorcycle memorabilia.
11:45 A.M. – Have dinner at Valley Café, 7AM-1:30 PM Tues-Sat., 11:30AM-1:30PM Sunday, and Friday evenings, 5:30PM-7PM.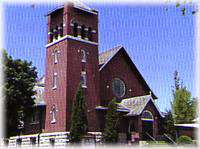 1:00 P.M. – Shopping—Free time
City Sundries: old-fashioned soda fountain, ice cream, cokes, novelites, gifts.

Honkers Bar and Grill: delicious hamburgers and cold beer.

Olsons: 115 year old furniture store with gifts.

Arts Center: old theater restored for art center.

Art Gallery (ArtSpace.com), Tuesday-Sat
2:00 P.M. – Walk through the historic Elim Lutheran Church.
2:30 P.M. – Tour the historic Hanson-Lindfors house listed on the National Register
3:00 P.M. – Board bus for return trip home.