Listed on the National Register of Historic Places, the Lanesfield School Historic Site is a tribute to rural schooling. It consists of a restored one-room schoolhouse, outbuildings and a visitor's center featuring an exhibit on Kansas'one-room schools called "Just Plain Simple: The One-Room School in Kansas."
Meet a costumed schoolteacher. Dip a pen in an ink well and practice your penmanship. Cipher math problems on a slate using a slate pencil. Participate in a spelling bee. All these activities recreate a 1904 learning experience for children and adults. Built in 1869, the school is the only building that remains on the town site of Lanesfield, Kansas a mail stop on the Santa Fe Trail.
For ninety-three years Lanesfield School served the educational needs of the local rural population. The children came from farming families, and they fit school in between their morning and evening chores. The schoolteacher taught grades one through eight in the subjects of geography, reading, spelling, arithmetic and penmanship. Former Lanesfield students have fond memories of attending the school. James E. Payne attended Lanesfield school in the 1870s and recalled that "it was interesting to see the [Santa Fe Trail] wagon trains pass by when we could get outside to enjoy the sight."
Lanesfield School operated as a one-room school until school district consolidation in 1963. The Museums staff restored the school to its 1904 appearance.
Today, the Lanesfield School Historic Site continues the tradition of one-room schools in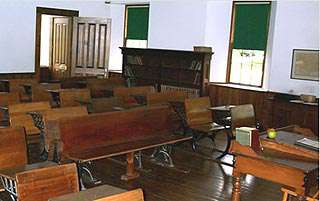 Kansas. A costumed schoolteacher leads site tours and conducts 1904 lessons in the schoolhouse. The Lanesfield School Historic Site serves area school groups with a variety of programs, including an award-winning living history program that transports students back to a school day in 1904. Events, such as Christmas at Lanesfield and May Day at Lanesfield, make the Lanesfield School Historic Site a fun place to visit year-round. Click here to see a list of special events.
Adjacent to the site is a 78-acre restored prairie, operated by KCP&L. Visitors can walk the prairie and cross the path of the Santa Fe Trail on their way to Big Bull Creek, the site of a pre-civil war skirmish between pro-slavery Missourians and free state Kansans.