This home was built in 1889 by Burlington banker, Thomas Foster. As was the custom in the Victorian era, the home is filled with fancy woodwork, stained glass windows, fireplaces, open stairways, and many other special accents.
The home was one of the first to boast running water, and it has remained in excellent condition because of continuous occupancy by only three owners since it was built. – 314 N 4th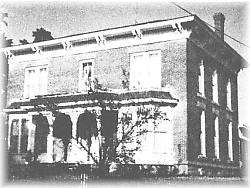 This restored brick home south of Burlington once belonged to real estate man, James M. Lane.
The home was built by the Lanes in 1869, and native walnut from a grove on the property was milled for the woodwork in the house. – Highway 75, South of Burlington