Great Bend is home to an expanding collection of outdoor murals created by local artists and groups. Several of the brightly colored murals are located in the Main Street business area. Following are murals visitors can enjoy now:
Migration is located at the corner of Main & 16th Streets. The mural was conceived and completed by local high school art students and depicts elements of Great Bend's culture along with a spectacular representation of water fowl in flight over a quilt pattern of farm land. Comet Hale-Bopp also makes cameo appearance in the mural since it was visible while the mural was being painted.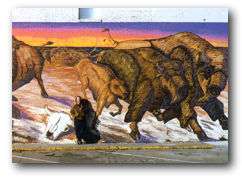 Kansas Stampede is located at the corner of Lakin & Kansas Avenues. The majestic American bison dominates this impressive mural.
Street Dance is located on Main Street at 11th. Diversity is the theme of this mural. The many cultures which enrich Great Bend are shown kicking up their heels in traditional style.
Nose Art is located on the north walls of the American Legion at 11th & Kansas. Nose art from B-29 bomber planes inspired this mural. Great Bend was the site of a B-29 Bomber Training Camp during World War II and parts of the massive runways and hangars still remain.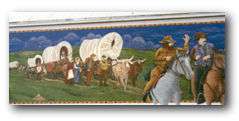 Santa Fe Trail was conceived and painted by staff of the City's Recreation Department. This mural honors and depicts the area's close ties to the Santa Fe Trail (it ran right through the Courthouse Square!) and the rich frontier history of Great Bend.
rn