The three-story, native limestone building which houses the Geary County Historical Museum, has been described by architects as a "unique and magnificent structure and an outstanding example of the stonecutter's art."
The building, originally the Junction City High School, was constructed in 1903 by local contractors, Ziegler and Dalton. It served as the high school from 1904 to 1929, and from 1930 until the late 1960s housed all the sixth grades in the city. After the building was vacated by the school district in the 1970s, it was purchased by Junction City philanthropist, Fred Bramlage, and donated to the historical society in 1982 as a permanent home for the museum.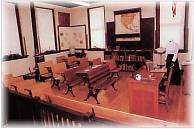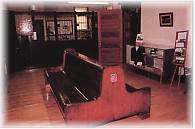 The large rooms and hallways afforded by this former school building make for perfect period room displays such as the full scale country school room and a Union Pacific depot ticket office and waiting room, and a working print shop.
A Victorian-era parlor and a Kansas farm kitchen of the 1920s house a variety of related displays. artistic and accurate clothing exhibits, a display of quality Plains Indian artifacts and pioneer farm implements with educational, "hands-on" segments are also very popular with visitors.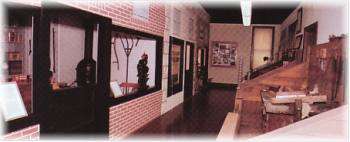 Extending down a long hallway is a "Main Street" gallery which contains six businesses typical of the early 1900s. This display contains artifacts that were used in early Junction City stores.
The Jeffries Research Room serves as a depository for family and community histories and contains records for genealogical and historical research. Local newspapers dating from the 1860s and an extensive collection of vintage photographs are on file here.
An attractive Gift Shop featuring locally hand-crafted merchandise is open on the main level during museum hours.
Docents, authentically costumed as turn of the century school teachers, conduct prearranged tours for groups of any size.
"Living History" craft demonstrations, art exhibits, reenactments, lectures and special programs are periodically presented at the museum.