Finnup Park
Land for the park was donated to the city in 1919 by George Finnup in memory of his father, Frederick, an early pioneer. Located in Finnup Park:
rn

Finney County Historical Museum – Dedicated to preserving our heritage.
Historical Marker – Located south of the "Big" Pool, this marker notes that the Arkansas River was a national boundary line (with Mexico) from 1805-1845.
Pleasant Valley School House – Located West of the Museum, one-room schools like this were typical in early-day Finney County. Open by appointment with the Museum.
Lee Richardson Zoo – Named for Lee Richardson, an outstanding peace officer in the 1920's who was instrumental in establishing the Zoo and game preserve.
rn
Finney Game Refuge
Located south of the river bridge on Hwy. 83. Tours are available by appointment.
rn
Point of Rocks
Located east of Garden City on Hwy. 50 to Raceway Road (turn south) and travel to the dead end (turn east) on River Road for 2 miles. Point of Rocks is on the north side of the road and is across from the Weldon Outdoor Classroom. It is on private property. This elevated outcropping of rocks was one of many rock landmarks on the Santa Fe Trail.
Sabine Hall
Located on the corner of 8th and Jones, this building was named for Doctor Andrew Sabine, an early Finney County medical doctor and school board member. Built in 1910, it has housed the junior college, high school, junior high, and is now being used as apartments. It is also listed in the National Register of Historic Places.
Two Ghost Towns
Ravanna and Eminence were both thriving towns in the 1880's. There was fierce rivalry between Ravanna and Eminence for the permanent location of the Garfield County seat. During the process, the area was surveyed and found to have less than the 432 square miles required for organization. As a result, the area was annexed to Finney County in 1893 and Ravanna and Eminence eventually died out.
Ravanna
Granite marker on Hwy. 156. Located 24 miles east of Garden City on Hwy 156, 7 miles north on K-23 and 4 miles east on Lake Rd. The ruins on the north side of the road (on private property) are what remain of the school house.
Eminence
Located E on Hwy. 156, turn north at first turn after mile marker 21, continue 2 miles to a dead end, east 1/2 miles, north 1 mile, 1/4 mile east to stone school house. The school house is now used as a farm shop. It is on private property.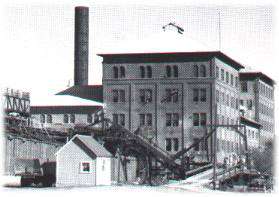 Sugar Beet Factory
Located on west Fulton. The factory opened in 1906, reviving the economy. Irrigation ditches dug in the 1880's were enlarged and used to water the sugar beets. It closed in 1955.
Jewish Cemetery
Located 4 miles north of Kansas Ave. on US 83, 4 miles west on West (SE corner of Chmelka and Lowe Roads). There are 4 grave sights visible. This land was permanently deeded for a cemetery in 1892.
Holcomb
Located 6 miles west of Garden City on US 50. Until 1910, this settlement was known as Sherlock, the official mail stop for this area until the Fultons persuaded the railroad to stop in Garden City.
Pierceville
rnLocated 12 miles east of Garden City on Hwy. 50. This first settlement in Sequoyah County was a headquarters for a ranch. The original town sight was destroyed by fire during an Indian Raid in 1874.