Near the museum was a roundhouse where steam engines forged the new western frontier and were serviced to return to the east. Ellis served as the destination of many cattle drives to send beef back east and brought early settlers to the untamed frontier. Come to the museum and step back in time to see artifacts dating back to the early days of the railroad in western Kansas.
View railroad artifacts and railroad videos and films, plus over 5000 square feet of a working model train layout. A yellow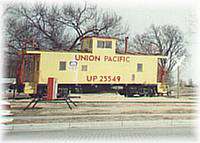 Union Pacific caboose is located next to an actual depot from Penokee, Kansas, which is used rnas the train ride boarding point. A 1/3 scale General Motors Aero Streamliner rntravels along a 2.5 mile track outside the museum. Riders pass by the old roundhouse area and railroad shops east of the museum. The train will pass by Big Creek Lake area. A portion of the track sits on the original trackbed used in the earliest railroad days. Also,see a collection of over 1200 dolls.