There are 650 bird species in the United States, 417 in Kansas, and 320 in Cheyenne Bottoms! Besides birds, there are 23 species of mammals 19 species of reptiles and nine species of amphibians.
Cheyenne Bottoms and nearby Quivira National Wildlife Area are also half-way down the central flyaway for migrating birds. Out of more than 200 stopover areas, Cheyenne Bottoms attracts 45 percent of North American Shorebirds. Both refuges host myriads of ducks and thousands of sandhill cranes on the way to their staging area along the Platte River in Nebraska.
During these seasons is an excellent time to visit since each refuge swells to accommodate between 500,000 and 600,000 birds. Photographers and naturalists enjoy Cheyenne Bottoms and Quivira because they are not sensationalized. They are however, listed first and second in the Dynamic Dozen list of WATCHING KANSAS WILDLIFE/A GUIDE TO 101 SITES by Bob Gress and George Potts, University Press of Kansas, 1993.
Of the 41,000 acre elliptical shaped basinlike lowlands six miles northeast of Great Bend, the Kansas Department of Wildlife an Parks operates 19,857 acres as a wildlife management area. It is considered the largest marsh in the interior of the United States and has been designated a "Wetland of International Importance."
This is the most important ecosystem in Kansas and the most important migration point for shorebirds in North America. From 45% to 90% of various shorebirds, geese and duck species stop at Cheyenne Bottoms. Over 100 species nest in the area and 64 species are permanent residents. "All wildlife watchers should make an annual pilgrimage to Cheyenne Bottoms…" says Bob Gress.
HUNTING
Hunting pressure on the Bottoms can be heavy during water-fowl season, particularly on weekends. Hunters planning trips to the Bottoms should consider weekday hunts. Hunting is NOT ALLOWED in the refuge areas.
FREE PERMITS REQUIRED – When the check station is in operation, hunters must obtain a permit to use one of the 167 concrete duck blinds or the goose hunting zones. Permits are obtained at the area office check station free of charge on a first-come, first-served basis. When a blind or zone is assigned, hunters are required to leave their hunting license at the check station. Hunters must return to the check station within one hour after the end of their hunt or within one hour after sunset, whichever occurs first. At this time, any game bagged is inspected and the hunter's licenses are returned. All hunters must obtain a hunting survey permit at any of the wildlife area parking lots or one of the four main entrances. Permit dispenser and deposit boxes are at these locations Hunters need only follow instructions provided.
Pools 1, 5, and a portion of Pool 2 are refuge areas and closed to all activities. Exceptions to this occur for some special hunts. Check with wildlife area personnel for more information.
OTHER GAME – In addition to waterfowl, other game may be legally taken at Cheyenne Bottoms. Pheasant hunting is usually good. Snipe and rail hunting is good along the shallow marsh margins. Quail and deer are also present in fair numbers.
A handicapped accessible hunting/photo blind is available by reservation. Call the office for additional information and reservations.
In the event of whooping crane activity, the pool the birds are in is closed to all hunting and the goose hunting zones are closed to crane and light goose hunting.
BIRD WATCHING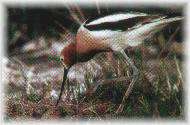 Because Cheyenne Bottoms is such a diverse, large and unique marsh, birdwatching is one of the more popular activities on the area. Waterfowl can be seen throughout the year. During migration, numbers can climb to 250,000 ducks and geese. The SPRING and FALL migration periods offer the best opportunity to view large numbers of different species in this one location.
In spring, waterfowl and sandhill cranes an begin arriving as early as February. Wading birds, such as herons an egrets, begin arriving in March and April. Most shorebirds arrive in late April and early May. By late May, the birds that are still present on the area will tend to remain and nest.
The southward migration in fall can be a rewarding and challenging time for the birdwatcher. Most of the birds moving through the area during this time of year have replaced their breeding plumage with a set of feathers that lack much of the color they had just a few months earlier. This can make identification difficult, especially when looking at shorebirds.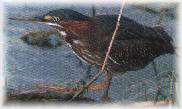 The fall shorebird migration can begin as early as July and extend will into September and October. Because of this, the bird numbers are not as impressive as the spring movement since the birds do not achieve as great a number at any one time. The peak period for duck viewing in the fall occurs early to mid-October. Most wading birds remain on the area until the marsh freezes. This is especially true for the great blue heron. Whooping cranes, which migrate from Texas to Northern Canada and back, are most apt to stop at Cheyenne Bottoms in late October into early November. Bald eagles winter on the area and are present from as early as November to as late as March. A checklist of birds found on the area and the seasons they are present is available at the area office and the information signs at the main entrances.
FISHING – Fishing at Cheyenne Bottoms is limited, for the most part, to carp and bullheads. Occasional catches of channel cat, crappie and bass are made after several continuous years of having water on the area.
TRAPPING – Trapping is permitted on the wildlife area. A special permit is required. It is available at the area office free of charge. However, trapping is not permitted at any time in the refuge area nor during the waterfowl season.
CAMPING – Camping is permitted only in the primitive campground located 1 mile west of the area office.