The Cherryvale Museum is itself the dream of a woman who lived here when she was a little girl. Opal Conduitte moved with her parents to Florida, and when she died in 1964, her husband, Clarence E. Evans, notified the people of Cherryvale that his wife had willed valuable antique pieces of glass and china and early Americana to found a museum. The 1927 SWBT office building was purchased with funds from a membership drive.
One of the prized items include the Martha Washington plate given to Martha by the Dutch East India Company when her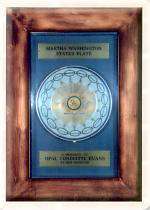 husband, George Washington, was president of the United States. The only other surviving piece frin a set of12 can be found in the Smithsonian Institute. The infamous "Bloody Benders" murder hammers and other Bender memorabilia are also displayed. The front room of the museum is known as the Opal Evans Parlor. The room at the rear is called the Hibbard memorial Room and displays items once belonging to the S.L. Hibbard family.
Over the years, gifts to the museum have been many. In addition to the fine collections, the Museum also displays a clock with wooden works, a spinning wheel, framed sketches of the Bender Family, antique furniture, a silver water tanker and tumbler, vintage clothing, many Cherryvale photographs and much more.
Special exhibits are shown monthly throughout the season. To celebrate Cherryvale's 100th birthday in 1971, a "Time Capsule" was encased outside to be opened during the 200th year celebration in 2071.rn